Becoming a Boat Racer
Photo: Gleason Racing Photography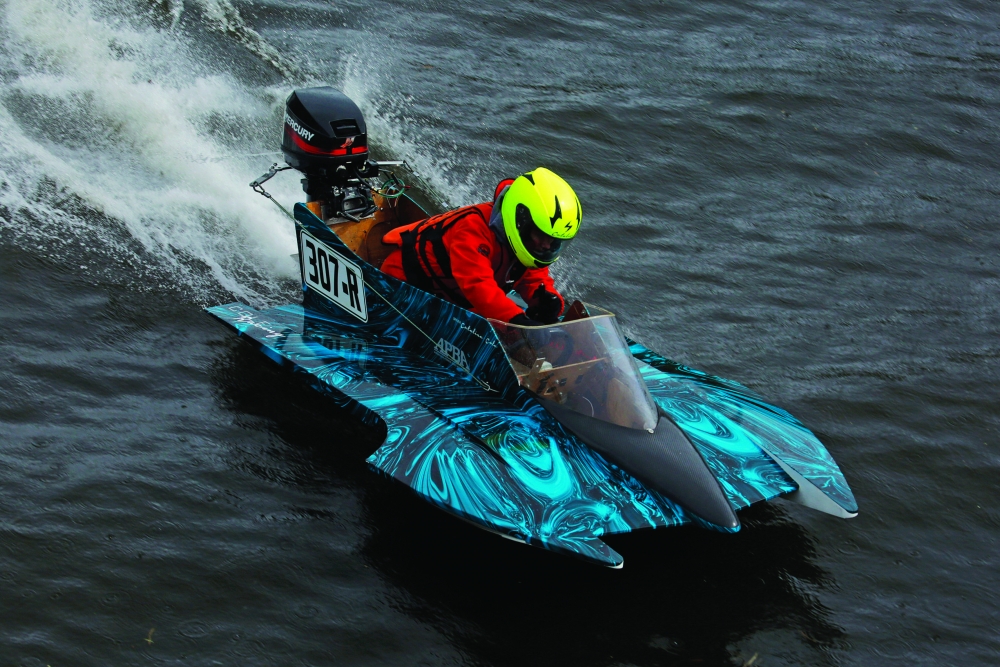 Powerboat Basics
Before you're ready to jump in the cockpit and hit the water, some basic education on the ins and outs of powerboats might be helpful, so let's take a look at some of the basics of powerboat racing.
To put yourself at the top of the podium, it all starts with understanding your equipment compared to your competitors. Being properly informed about the components of your boat can be the deciding factor between first and last. Below is a general overview of the important information revolving around power boating.
Hull Design
A Hydro is a type of hull designed so that much of the hull lifts out of the water and skims the surface at high speeds. A hydro is easily recognizable by the points or sponsons at the front of the boat which create the hydroplaning effect.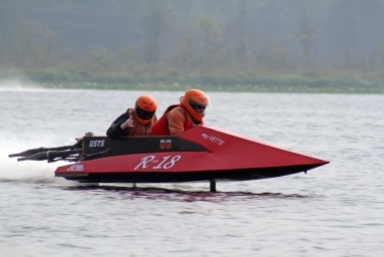 (Photo: Denise Johnson)
(Photo: Denise Johnson)
Propellers
The right propeller is essential to racing; your prop can make or break your heat on the water. Made of stainless steel, the most commonly used propellers are composed of three or four blades. More blades reduce vibrations while maintaining efficiency, while propellers with fewer blades are best for lower horsepower engines. To help make propellers more efficient, blades should be as thin as possible. However, thinner blades, while more efficient, also run the risk of cracking when pushed to the limit by motors with higher horsepower & torque.Mercury Racing has published a series of propeller 101 articles that we highly recommend for those looking to learn a bit more.
Racing Engines
Inboard engines are housed inside the hull as opposed to outboard motors which are on the back of a boat. Inboard engines have various power plans ranging from two-stroke to stock four-cylinder to a stock eight-cylinder engine.In addition to stock engines, Inboard motors can also be highly modified four-cylinder engines.
Outboard engines are detachable engines mounted to the stern of the hull. Unlike an inboard engine, this engine is a self-contained unit that consists of an engine and a gearbox. Because many outboard racers race more than one class, outboard motors are quickly interchangeable.
Unlimited Hydroplanes are usually powered by a single Lycoming T-55 L-7 turbine engine. These engines are best known for powering the military's Chinook helicopters. These engines are capable of 3000 HP and they run on Jet-A fuel. These powerful engines turn a three blade 16" steel propeller creating a force that propels an Unlimited boats over 200 mph.
Safety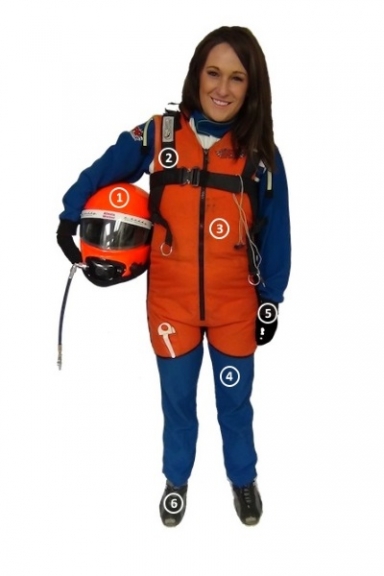 (Photo: )
Helmet - must meet the specifications set forth by any of the following: American National Standards Institute, Inc., Snell, or military specification helmet designed for military aircraft. All helmets must have the top 50% as a high visibility color (yellow, orange, fluorescent red). While oxygen is not required, some racers in enclosed cockpits choose to use it.
Neck Restraint - while no APBA category specifically requires neck restraints, many racers choose to use them to protect their necks and backs from the constant stress of racing.
Life Jacket - must be in compliance with APBA Lifejacket Manufacturing Specifications. In addition, the upper 70% of all lifejackets must be colored orange or yellow. Lifejacket variation is specific to the type of cockpit and restraints the driver is using.
Driving Suit - All APBA racers are required to wear some sort of protective clothing underneath their life jackets. The suit pictured is for Inboard racing and is the required fire resistant suit. Outboard drivers are required to wear cut resistant sleeves and pants which are primarily made of Kevlar.
Gloves - While no APBA category requires gloves, many racers choose to wear them to gain a better grip on the wheel. Many outboard racers also choose to use cut resistant gloves.
Shoes - All APBA racers are required to wear closed toed shoes while racing. Many outboard racers choose to wear cut resistant socks underneath their shoes.
Race Readiness Guide
So, you're interested in racing powerboats? Can't say we blame you; there's nothing quite like the thrill of racing neck and neck with some of the best drivers in the country at extreme speeds just inches above the water. These boats aren't just for professional drivers; anyone can race and anyone can win - but winning doesn't happen overnight. We've created this beginner's guide to powerboat racing to help you understand what it takes to get started.
Attend a Driving School
The best way to learn about racing and get experience driving is in a controlled and safe environment is through an APBA Driving School. Future racers will have their choice of category depending on where you're located. You will learn how to line up for a start, how to turn properly and, most importantly, how to race safely.
Attend Races in your Region
There's no better way to get the full racing experience than going to races that are taking place nearby. Most racers will answer any and all questions you may have. They may even be willing to let you help crew for the weekend. We pride ourselves on being one big racing family, and we will welcome you to join it.
Choose your Category
The four major factors to consider when deciding which APBA category you will race in are Location, Weight, Age and Budget. Make sure to consult the New to Racing category selector to determine which category is best for you.
Find the Right Equipment
There are dozens of manufacturers and equipment suppliers out there. How do you know which one to go with? Make sure to ask your mentor. You can find used equipment on the APBA classifieds page or new equipment on the boat builder's page on the APBA.org.
Register for a Race
Make sure to have your APBA membership card, your club card, and a filled out entry blank for every class you are racing that weekend. If you race Inboard or Vintage, you will need to have your required physical at registration. Capsule boats require capsule training. After you register, make sure you sign a waiver and get a wristband. After that - you're ready to Race!
Putting Together Your Boat
Owning & maintaining a race boat isn't a simple task but it's definitely a fun hobby. Most racers will buy their hull already assembled and modify their engine to give them best possible chance of winning. Don't worry, your mentor will help you out and teach you everything you need to know along the way.
Racing Mentor: Your New Best Friend
Getting behind the wheel of a race boat with no experience and no guidance is a losing combination. Once you decide the type of racing that's the best fit for you, the APBA will connect you with a local race mentor. Your mentor will teach you how to be competitive and safe. Fill out a Racing Mentor Request to have the APBA connect you with a Mentor Today!
Learn about the American Power Boat Association
Going fast, staying safe - That's what the APBA is all about. We provide the rules, the officials and the insurance for the races that you participate in. With 13 different categories of racing operating in 16 regions across the country, racing with the APBA provides plenty of options based on the type of race experience you're looking for.
Get in Touch - We're Here to Help
While power boat racing is considered to be one of the most affordable motorsports, it's important to know exactly what you're getting into before you make any commitment. Browse through this site, connect with APBA headquarters, and talk to any racer you come across about how to get into powerboat racing.
Racing Regions and Clubs
If you're interested in racing in the APBA, it's important for you to know where to race and how the race regions are organized. As a National organization, the APBA has 9 different racing regions set up across the country, and familiarizing yourself with the regional set-up is an important step to getting started.
APBA Regions
The APBA is broken down into 9 different racing regions across the country. Each region has its own set of rules, which are created in accordance with APBA Bylaws. Within each of these regions, local race clubs organize, run & promote APBA sanctioned events. To find out more about racing in your region, please contact your region chairman.
Join the Club
Clubs are set up at the local level, and are a great way for new racers to connect with racing veterans in their area and get a leg up. Local race clubs are the true lifeblood of the APBA, as they are the ones who organize and run each of the race events throughout the year. Clubs are led by commodores, and will typically meet every month or so to discuss new business, talk about upcoming races and potential new races. As a new racer, it's a good idea to jump in and be active with your local club early on. There's a wealth of knowledge and help just waiting for you. Search for the club closest to you on the APBA Club's Page.
Racing Categories and Classes
There's no lack of options when racing in the APBA - with nearly 100 different classes of racing spread across 13 categories, the APBA offers the most perse mix of power boat racing options in the United States. So, which class is right for you?
Sanctions and Championships
The APBA sanctions Race Events throughout the United States called regattas. Regattas are typically a weekend long series of different races across multiple categories and classes. By participating in an APBA Sanctioned event, Racers are guaranteed insurance and also qualify to earn high points.
APBA Sanctions
The APBA Sanctions Race Events throughout the United States called Regattas. Regattas are typically a weekend long series of different races across multiple categories and classes. By participating in an APBA-sanctioned event, racers are guaranteed insurance, and also qualify to earn high points.
High Points
Every race you participate in provides you with the opportunity to earn high points. High points are awarded based on how you finish in your heat, with point values and specific rules for awarding points varying across different categories.
Not all races are created equal - throughout the year, there are certain races that are more valuable when determining overall high point championships than others. Regional, Divisional National, North American and World Championships (held in the U.S.A) are all more valuable.
Championships
Race Like a Champion Today - There are a couple of different ways to be a champion in the APBA. A National Champion is someone who has won their classes' respective National Championship race. High Points Champions are the drivers or boats that accumulate the highest possible point total in their class within a certain number of races throughout the entire race season.
Awards
The American Power Boat Association offers racers several prestigious awards.
Gold Cup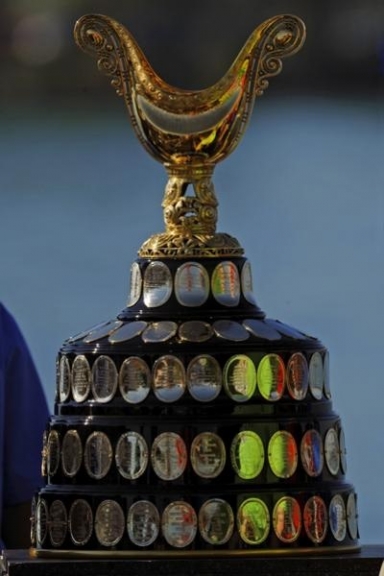 (Photo: )
Category: Unlimited
First Awarded: 1904
The oldest trophy in motorsports, the Gold Cup; originally named the Challenge Cup, was first given out in 1904. It was crafted by Tiffany's in 1902 and was fully restored in the mid 2000's. This trophy is awarded annually to the winner of the Unlimited Category's APBA Gold Cup race on the Detroit River.
Past Winners
2018 - Andrew Tate
2017 - Jimmy Shane
2016 - J. Michael Kelly
2015 - Jimmy Shane
2014 - Jimmy Shane
President's Cup
(Photo: )
Category: Unlimited
First Awarded: 1926
First awarded in 1926 but most recently awarded in 1999, the President's Cup is presented to the winner of an Unlimited race on the Potomac River in Washington, DC. Under the original deed of gift, the Presidents Cup is to awarded from a different Unlimited race site if there is no race held on the Potomac River.
Past Winners
2018 - Not awarded
2017 - Andrew Tate
2016 - Not awarded
2015 - Not awarded
2014 - Not awarded
Colonel Green Round Hill Trophy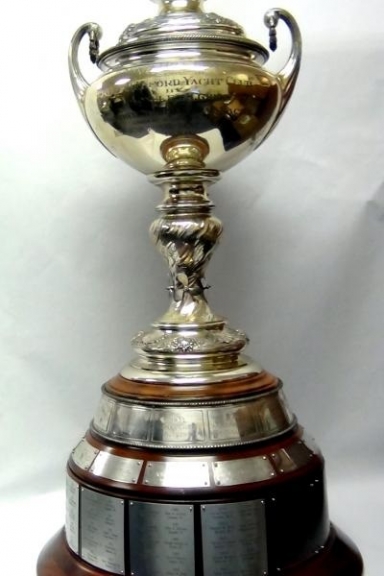 (Photo: )
Category: Professional Outboard
First Awarded: 1933
Created in 1933, this trophy is presented annually to the driver with the most points during the racing season in the Professional Racing Outboard (PRO) Category. The trophy, housed at APBA Headquarters, is 44" high and contains almost 18 lbs. of sterling silver.
Past Winners
Martini and Rossi Trophy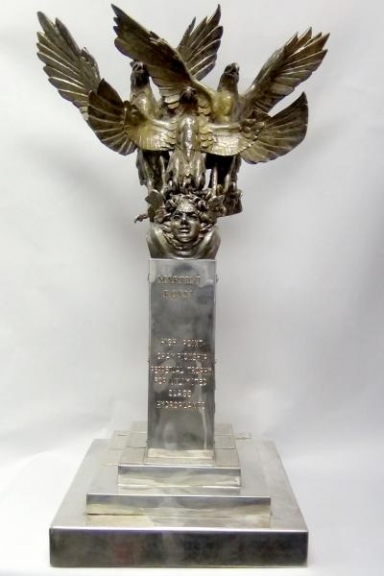 (Photo: )
Category: Unlimited
First Awarded: 1959
The Martini and Rossi Trophy was first presented in 1959 to the Unlimited High Point Champion. The trophy was originally donated by the popular Italian company and restored by the APBA in 2009. The trophy also signifies Unlimited's APBA Hall of Champions inductee.
Past Winners
2018 - Andrew Tate
2017 - Jimmy Shane
2016 - Jimmy Shane
2015 - Jimmy Shane
2014 - Jimmy Shane
Bob Goller Award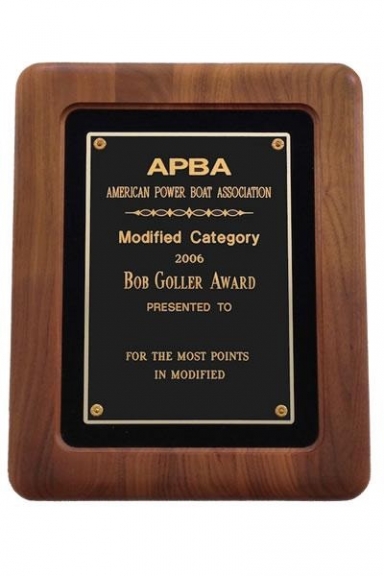 (Photo: )
Category: Modified Outboard
First Awarded: 1972
Created in 1972, the Modified National Overall award is presented to the Modified Outboard driver who accumulates the most overall points in the Modified Outboard Category. Renamed the Bob Goller Award in 2007, the winner of this award is also given the boat number US-1 for all of their boats the following year.
Past Winners
Gerald Waldman Memorial Award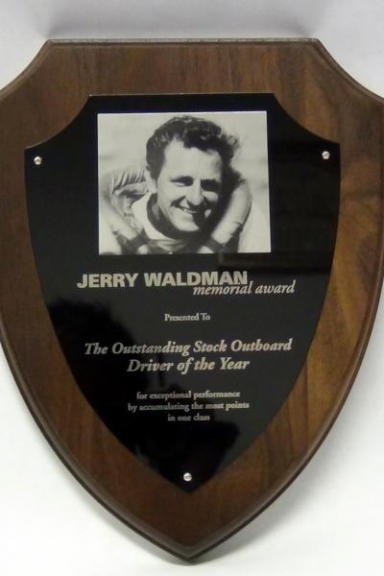 (Photo: )
Category: Stock Outboard
First Awarded: 1977
Granted to Outstanding Stock Outboard Driver of the Year.
Past Winners
Henry Menzies Memorial Award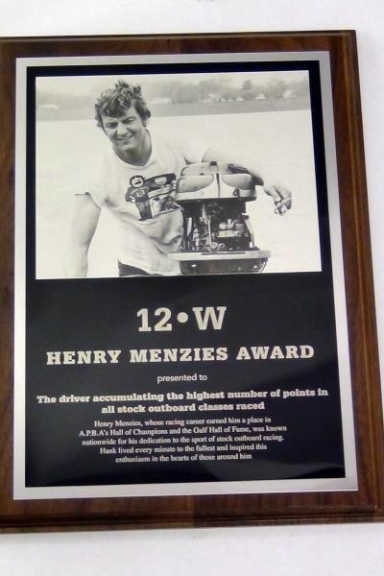 (Photo: )
Category: Stock Outboard
First Awarded: 1979
Established in 1979, the Henry Menzies Memorial Award was named for Dr. Hank Menzies whose racing career was cut tragically short in 1978. The Menzies Award is given to the Stock Outboard driver who accumulates the highest number of points in all Stock Outboard classes raced.
Past Winners
Don Allen Sr. Memorial Leadership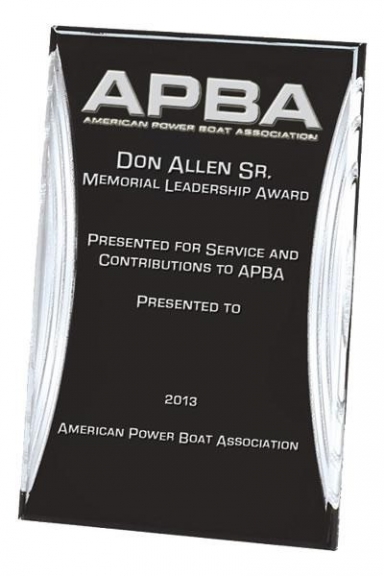 (Photo: )
Given annually, this award honors service contributions to the American Power Boat Association in the areas of leadership, officiating, safety, or other activities contributing to the benefit of the APBA not directly related to the racing of a specific boat.
Past Winners
Charles D. Strang Award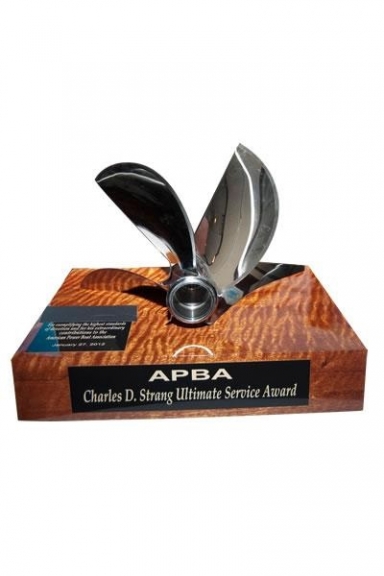 (Photo: )
The Charles D. Strang Ultimate Service Award is given to one inpidual who exemplifies the highest standards of devotion and accomplishment for the benefit of the APBA through unselfish service to APBA.
Past Winners
A Day at the Races
There's nothing better than a day at the races - Engines are roaring, friends are reuniting and having a great time, and boats are flying past at breakneck speeds. But attending a boat race isn't like going to a football game or a Nascar race, it's a full on weekend experience. And because of that there are a few things that powerboat rookies, both racers and spectators, should know before packing up and heading to the race site to ensure their race experience is a positive one.
Racers and Crew
On race day, most racers have their own superstitious methods or rituals for getting ready. Whether it's the same pre-race breakfast, wearing the same cut socks or showing up to the race 42 minutes early, every racer has their traditions. No matter the traditions and superstitions, there are a few steps that are preparations that all racers partake in.
Get to the race site early
No one wants to be stuck at the back of the pits. Arriving early assures you a good pit location and easy access to the launch or crane areas.
Check in with the scorer
Make sure to check in with the scorer on site. You will need your APBA card, a club card, money for your entry fees and your entry blank. Make sure to have an entry blank for each class you plan on running that weekend. You will also need to sign a waiver for the event and get a wrist band that allows you access to certain restricted areas.
Unpack
Now that you're checked in and ready to get going, it's time to unpack your trailer. Many drivers keep folding chairs, pop up tents and other standard equipment in their trailer. Once you're all checked in, then you can get comfortable and set up all of your equipment.
Test your equipment
Make sure to get your boat prepped and ready to go. You don't want to realize that you have an issue with your boat right as the race is about to begin. Testing is a necessity to keep your equipment properly maintained.
Suit up
Keep an eye on the schedule. When your class is getting close, it's time to put on all of your safety gear. Preparation is key. You don't want to be scrambling to your boat at the last minute while putting on your helmet.
Go Race and have fun!
Fans and Family
If it's your first time attending a race as a spectator, there's a lot to learn and even more to be excited about. Here's a quick rundown of everything you need to know when attending your first APBA Race
What to Bring to A Race
Umbrellas - Probably the most important item, umbrellas will help shade you from the blazing sun and, if it happens to rain you'll be covered. Races will continue to run during light rain showers, as long as the conditions aren't deemed too severe.
Sunscreen - Remember, Comfort is key. Even on an overcast day, you can't hide from the sun; and being on a water front means that the sun will be even stronger reflecting off of the surface of the water. Remember Sunscreen unless you want to leave the race extra crispy.
Coolers - Ice cold refreshments are always good - especially on race day. Some races do not allow coolers; while others will allow you to bring drinks in with you... it's best to check beforehand with the race site. We also encourage you to support the local food and beverage vendors at races that have them.
Folding Chairs - Comfortable folding chairs with four separate legs are best - these will prevent rocking on uneven ground.
Camera - If you're looking to take some good action shots of boats during the race, you're going to need a good camera. Sorry folks, iPhones aren't the best at capturing boats flying past at top speed. A high speed camera with at least 1/1000 second shutter speed is recommended.
Finding the Race Site
It's highly recommended that you look at a map or print out directions prior to attending a race. Many race sites are outside of standard GPS map sets, and having a backup never hurts. You'll also want to be sure to look at the sanction details for specific directions, which will tell you exactly where to go when you get to the body of water.
Preferred viewing location
Finding a good spot to watch the race isn't hard, and there's usually plenty of space for spectators to be comfortable. Look to set up camp along the straight away side of the course to the left of the starting like or the clock. Anywhere between this area and the first turn is where all the action takes place.
Race Course
Just like other motorsports, the inside lane is the best position in powerboat racing. It provides the shortest distance around the course, and gives an advantage to any racer. The overall length of the race is five miles, but depending on the size of the course, the number of laps may vary from 3-5 total laps for a complete race.
All buoys must be passed on the drivers left side - If a driver passes to the right, they must go back and pass the buoy on the correct side. Drivers can touch a buoy and continue racing as long as no damage is done. However, if a buoy is dislodged, deflated, or otherwise damaged, the boat will be disqualified.
Drivers who Jump the gun on a start won't know until the end of the race, at which point they will not receive a checkered flag at the five mile mark and are required to take an extra lap.
The Flying Start
The flying start is unlike any start in any other motor sport. This format has boats cross the starting line at full speed, which means timing the start is absolutely essential. The starting line is marked with two checkered buoys on either end, and drivers must time their approach to cross this line at the exact time the start clock has counted down to zero. The lane or poll position established at this point must be maintained down the front straightaway to the exit of turn one during the start. Because of this, the first turn is where most action is likely to occur - be sure you have a good view.
Signals and Start Times
In a flying start format, there will be a five minute gun to signal that it is time for boats to leave the pits. During this five minute period, drivers will make a timing run or two, while giving their engine the time to get up to temperature for the race. Just prior to the one minute gun, drivers will be jockeying for poll positions. When the one minute gun goes off, drivers have to maintain their respective lanes, and should be just around the exit of turn one in the final lap prior to the start - any further and they will likely have to slow down to keep from jumping the gun and crossing the starting line too early. The goal is to reach the starting line exactly when the clock counts down to zero and to be at full speed. Once the race has started, the clock will switch from counting down to counting up.
Signal Flags
Green Flag: Before Start - Signaled between the Five Minute and One Minute Mark
Green Flag: After Start - Signaled while the race is underway except the last lap
White Flag: Before Start - Signaled between the One Minute and Race Start
White Flag: After Start - Signaled when the Leader has started the last lap
Red Flag: Racers must STOP, be alert and watch for other signals
Blue and White Flag: Caution - Problems on the Race Course, Racers Continue with Caution
Black Flag: Course is Closed - Racers Return to Pits
Checkered Flag: Race Finish