Captain Hook Sets Another Offshore Record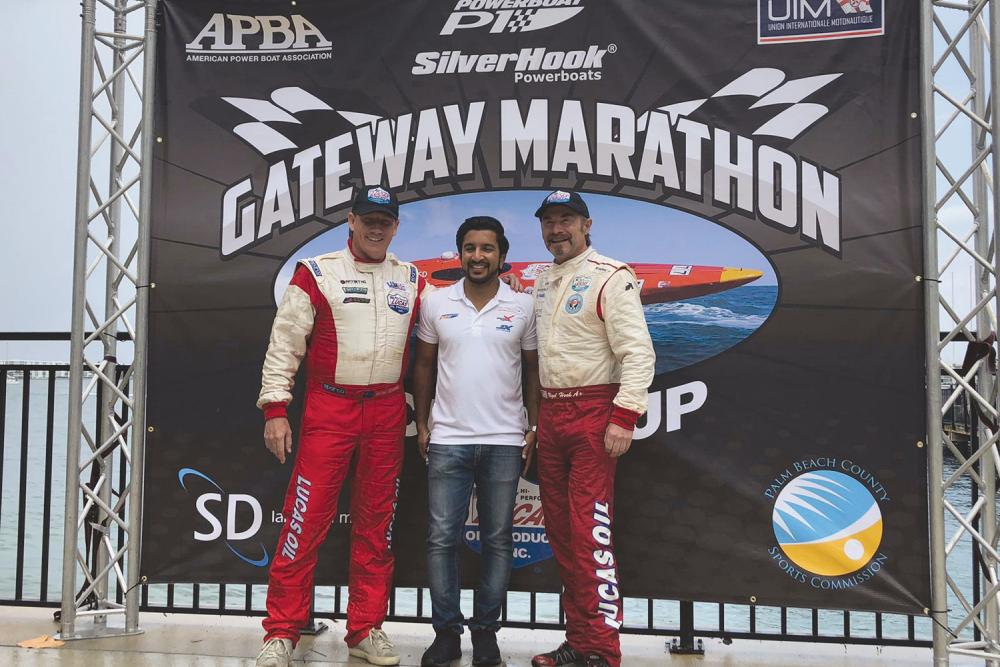 SilverHook has done it again. Just two years after its Guinness World Record-setting Key West to Havana run, a crossing of around 110 miles completed in under 1 hour, 20 minutes, the team set another record at the weekend with a flawless return journey from West Palm Beach, Florida to Freeport in the Bahamas.
Veteran offshore racers Nigel Hook and Michael Silfverberg achieved an average speed of 93.5mph for the 200-mile round trip in a total time of under 2 hour, 10 minutes. Promoted by Powerboat P1 and sanctioned by the UIM and the APBA, the 2019 Ocean Cup event revived an historic offshore race known as the Gateway Marathon which dates back some 55 years.
The 48-foot #77 Lucas Oil SilverHook all-carbon boat made the outward run to Grand Bahama Island last Friday, returning to Florida the following day. "The boat raced absolutely perfectly across the 200 miles, plus the three exhibition laps we did for the thousands of Bahamians lining the beaches of Freeport celebrating their national holiday" said Nigel Hook. "It's rarely straightforward crossing an open ocean but it was a fantastic run. It was a lot rougher than expected so the boat took a real pounding – you get adventure all the way when the Gulf Stream is at full steam! I believe we've laid the foundation to turn this into a Grand Race next year."
Swedish co-pilot Michael Silfverberg added: "Although there were some tough challenges with rough, quartering seas from the bow and constantly changing conditions, the boat ran superbly. I am so impressed by our team and of what we have achieved in setting new records. It was a fantastic event that I hope will become an annual one."
Jamie Rose, Managing Director of OBS Marine who are the Mercury Marine distributor for Grand Bahama, was the local promoter and he also is looking for this Ocean Cup event to be staged annually: "It's been a great experience. It's wonderful to see the passion and commitment shown by everyone involved. We always intended this year's event to be a stepping stone towards inviting a number of teams to compete head-to-head in 2020 in the race to Grand Bahama."
Powerboat P1 again joined the SilverHook team to promote the Bahamas event and its CEO, Azam Rangoonwala commented: "It's tremendous working with Nigel and his outstanding team who keep alive the true spirit of powerboat racing and add real value to the spirit. The Ocean Cup concept revives historic races and record attempts, and Nigel is awakening interest in these special achievements and creating 'new history.' I know he is already thinking about what will be next in 2020. More immediately, his attention will focus on the next round of the APBA Offshore Championship in Sarasota next month where the Lucas Oil-sponsored boat will be competing in the Class 1 category."
UIM Commissioner Jean-Marie Van Lancker was present over the two days and explains: "The two timing machines have been sent to the APBA in Jacksonville to be checked before the two-way run can be confirmed as new world records. This should be completed within the next 24 hours."