Chelan, Washington May 4-5, 2019
Photo: Chris Denslow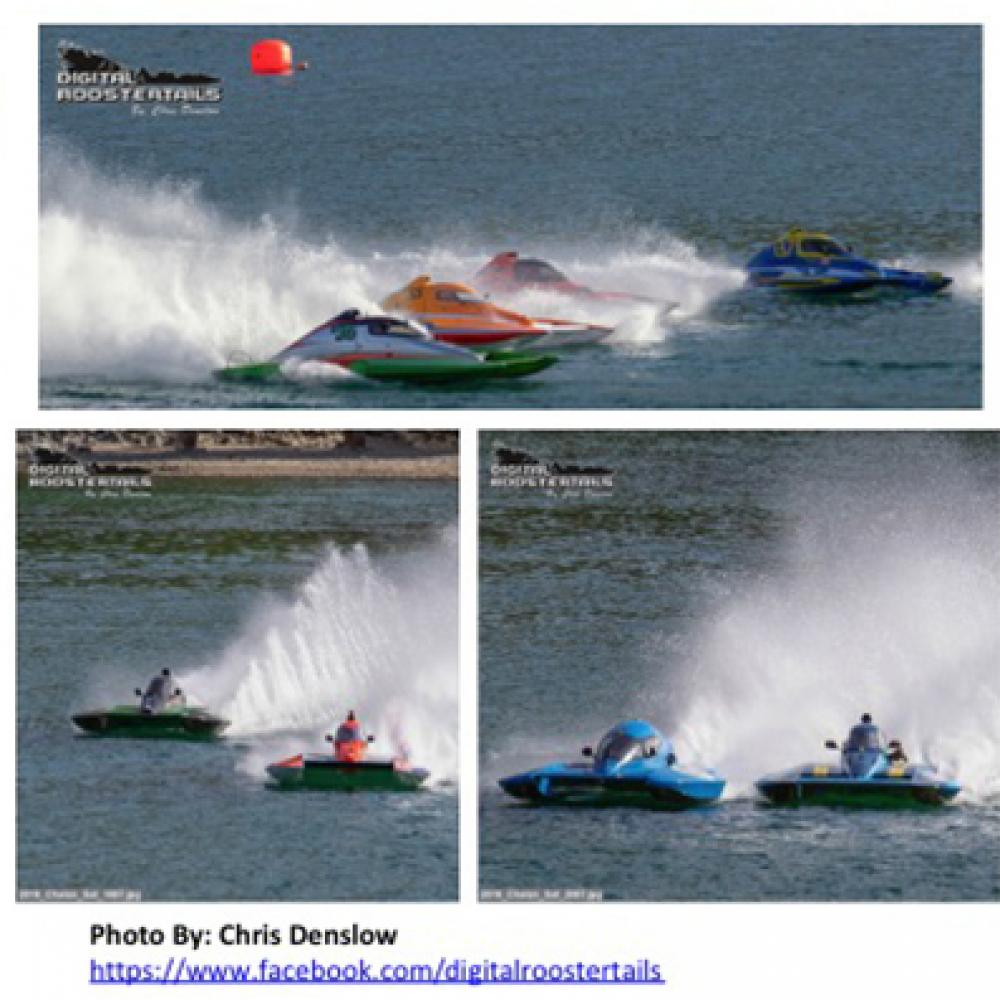 The 2nd event of the 2019 racing season for the American Power Boat Association in Region 10 hosted by Seattle Inboard Racing Association was held in Lake Chelan, Washington on May 4th and 5th. It was another great weekend of weather that provided great racing. We had 48 entries in Inboard, Vintage and OPC.
Thank you to everyone that helped out throughout the weekend to make it all possible! It was great to get some additional help and it was very much appreciated with the challenging pit area.
I would also like to thank Gordy Cole, John Walker, Mark and Mitch Evans for all the efforts working with the community to make this happened along with the entire race committee. We appreciate the support from Lake Chelan Chamber of Commerce & Visitor Center, Columbia Crane, Valley Tractor & Rentals and Lake Chelan Boating Club's Poker Run.
Thank you!
Matt Yarno
Norm Evans Apple Cup Saturday Results (Unofficial)
1 Liter - Final
Place Boat #
1 19
2 1
3 21
4 3
5 12
Sportman Entry
1 130
2 33
3 22
2.5 Stock
1 36
2 33
3 4
4 77
E350
1 55
2.5 Mod
1 138
2 4
3 11
SA
1 27
2 22
Inboard Preliminary Heat
1 Liter (1st) 19, (2nd) 1, (3rd) 21, (4th) 12, (DNS) 3, (DNS) 95 (DNS) 18
2.5 Stock (1st) 36, (2nd) 137, (3rd) 33, (4th) 4, (5th) 77, (6th) 11 , (DNS) 8
2.5 Mod (1st) 4, (2nd) 138, (3rd) 8, (4th) 11
E 350 (1st) 55
GP (1st) 15
SE (1st) 130, (2nd) 33, (3rd) 22, (DNS) 156
SA (1st) 27, (2nd) 22
Cracker Box (1st) 38, (2nd) 111
GT-1
1st Mike Nass
2nd Larry Shepard
3rd Mike Maskall
F-150
1st Rick Adams
2nd Cody Nass
3rd Brook Butler
Sport C
1st Mike White
2nd Wes Fridell
3rd Wil Hough
Vintage Participants
Jim Elms, Jill Glass, Gordy Gimore, John, Jackson, Shaun Kelson, Jim Labrie, Jeff Summers, Matt Yarno
Sunday Results (Unofficial)
1 Litre
Place Boat #
1 1
2 3
3 19
4 141
2.5 Stock
1 33
2 77
3 4
4 8
5 11
6 36
SE
1 130
2 33
3 156
2.5 Mod
1 4
2 138
3 8
4 11
GP
1 15
Inboard Preliminary Heat
1 Liter (1st) 1, (2nd) 19, (3rd) 21, (4th) 3, (5th) 18, (6th) 12, (DNS) 95
2.5 Stock (1st) 33, (2nd) 36, (3rd) 77, (4th) 4, (5th) 8, (6th) 11
2.5 Mod (1st) 8, (2nd) 11, (3rd) 4, (4th) 138
GP (1st) 15
SE (1st) 130, (2nd) 33, (3rd) 156
SA (1st) 27, (2nd) 22
GT-1
1st Brook Butler
2nd Mike Nass
3rd Larry Shepard
F-150
1st Mike Maskall
2nd Rick Adams
3rd Mike Nass
Sport C
1st Mike White
2nd Wes Fridell
3rd Wil Hough
Vintage Participants
Jim Elms, Jill Glass, Gordy Gimore, John Jackson, Shaun Kelson, Jim Labrie, Jeff Summers, Matt Yarno
American Power Boat Association, APBA Region 10 Racing, American Power Boat Racing Region Nine, A.P.B.A. Inboard Hydroplane Racing, APBA Hydro Experience, Region 10 Vintage Hydroplanes, RegionTen Patrol and Rescue, Vintage Hydroplane Lovers, Pro-Lite Hydroplane Racing, Seattle Drag and Ski, Tacoma Inboard Racing Association, Northwest Powerboat Association, Chris Denslow, Digital Roostertails, Tim Crowley, HydroRacer Live, Throttled: Stock Outboard Racing, Seattle Outboard Racing Association, West Coast F1, APBA Junior Class Racing, Prism Graphics, Inc, Lifeline Race Gear, NorthwestHydroplanes.com