Hydros for Heroes 2019
Photo: Matt Yarno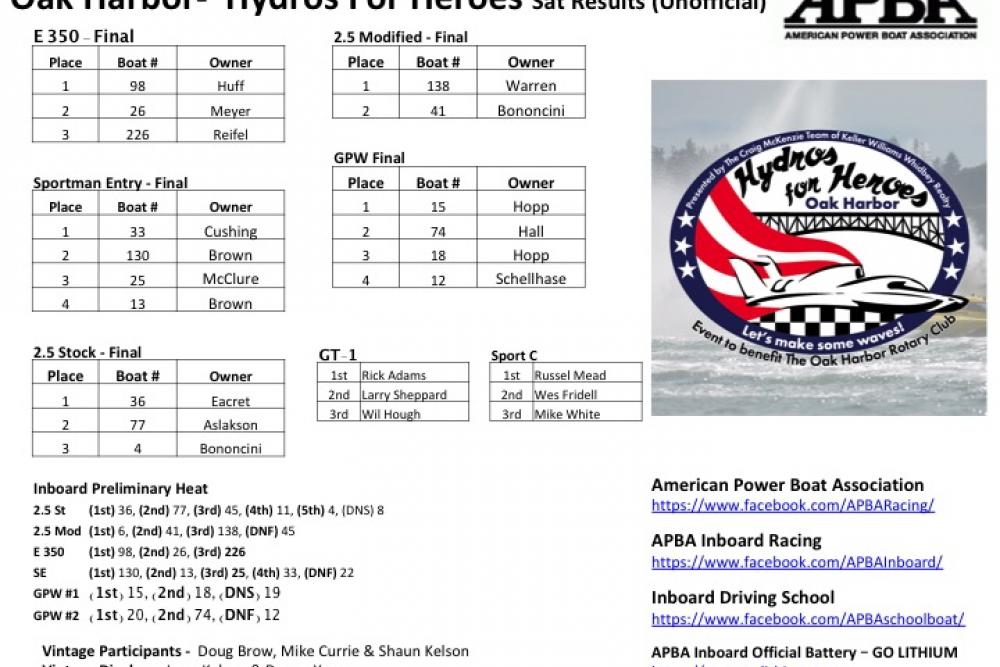 Unofficial results from Saturday and Sunday at Oak Harbor, Washington's Hydros for Heroes event August 24-25.
Hydros for Heroes 2019- what can I say but what an excellent event to be a part of! Craig McKenzie and Jim Woessner do such an excellent job putting the event together and are really great to work with!
It also makes it easy when you are working with a good group of people like Rick Sandstrom, Alexandra Harper, Pam Nagle-Villwock, Dawn Ponton, Marie Chavis Jackson, Janet Kelson, Jim Codling and Pat Yarno on the tower. Without the support of these people and others it would make refereeing a race not enjoyable!
Kip Brown and Tiffany Troxell Brown, thank you for again for Taylor helping with the flags (they may have to order double the amount of shrimp for next year) :)
Lenny Baker, Steve Whisman, Saxon Hopp and Rich Cassady keep loading boats into the water via the ramp or the NessCampbell Crane + Rigging all weekend when we had the water depth to race.
The course judges spent both days on the water, and thank you, Dick Price and Mike Malmo for all of your hard work.
Region Ten Patrol and Rescue did another great job all weekend- thank you for being there when needed.
Julie Ann Sparrowgrove and Chris Denslow, thanks for keeping an eye out for driftwood on the course and letting us know! It's always a pleasure working with Chris Denslow and seeing how well he likes you on FB :) Glad to have finally made it to the # status...
I know I am going to miss someone that helped this weekend and I apologize for that! I appreciate everyone's efforts to help to run a successful race in conjunction with a great event in a community like Oak Harbor, Washington that truly supports boat racing! If you haven't gone to the event, you should really consider it- even just as a display boat!
Thank you to everyone for a great weekend!