Hydros readying for Gold Cup trophy race on Ohio River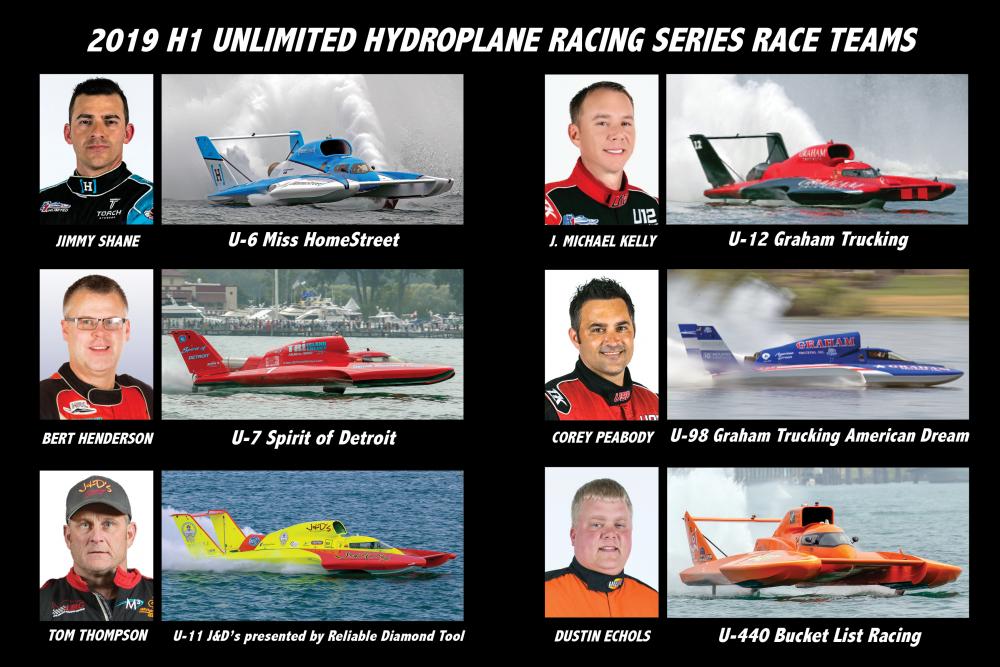 - Oldest active racing trophy
- Seven hydro teams expected
- 69th year Madison Regatta has hosted hydroplanes
Seven H1 Unlimited Hydroplane Racing Series race boats will begin testing and qualifying Friday for Saturday and Sunday's Madison Regatta, featuring the American Power Boat Association Gold Cup trophy race on the Ohio River in Madison, Indiana. The APBA Gold Cup is the oldest active motorsports racing trophy in the world, and this weekend will be contended for its 112th year.
Favored among the entries is last weekend's Southern Cup winner in Guntersville, Ala., Jimmy Shane, driver of the U-6 "Miss HomeStreet." Shane's team is operated by Miss Madison Racing and is owned by the citizens of the city of Madison, this weekend's host city.
The stress and pressure are squarely on Shane's shoulders as many of his nearly 12,000 team owners will be cheering him on. Shane said, "It's going to be very emotional." The last time a driver won a Gold Cup in Madison was 1971 when Jim McCormick drove the Miss Madison, "so I have some big shoes to fill," he said.
Shane, in his sixth year driving for the team, and the team's 21st driver since 1961, said, "I am just a very fortunate person to be a member of the Madison community."
Shane has won the prestigious APBA Gold Cup in 2014, 2015 and 2017, all when the race was held in Detroit. He is just the 12th driver in the 116-year the trophy has been contested to win the Gold Cup at least three times.
J. Michael Kelly of Bonney Lake, Wash. will drive the U-12 "Graham Trucking," a past Gold Cup winner. Kelly placed second at the season opener last weekend.
Kelly won the trophy in 2016, and comes into this weekend's race second in the H1 Unlimited Hydroplane Racing Series national points. "We are happy with our performance after last weekend's race in Guntersville, but now looking to improve on that.
"It's great to be back after missing the last two years of racing here in Madison," Kelly said. Kelly and his Graham Trucking team skipped every race but the Washington State races last year, and he is thrilled to be running back on the Ohio River. "We are coming back to a race that this team has been successful at before and I plan on putting up a good fight to win the Gold Cup," Kelly said.
Andrew Tate, from Walled Lake, Mich., driver of the U-1 "Delta/Realtrac" and last year's H1 Unlimited national champion, is expected to join the fleet after missing the first race due to a scheduling conflict. Tate won five of the six races last season and is expected to continue as a frontrunner.
Although Tate missed the first race, he was able to test in May and is expected to be a potential spoiler to Kelly's and Shane's desire to win the Gold Cup.
Tate said, "I am looking forward to joining the rest of the fleet this weekend in an effort to defend the Gold Cup I won last year."
The 29-year-old Tate is the youngest driver in this weekend's races. He said, "We hope to bring an element of excitement and unforgiving competition to the Series." Tate said he only wishes race officials would change the course length back to 2-1/2 miles for faster lap speeds and a chance to race under the Madison-Milton bridge.
The last time the APBA Gold Cup was held in the Southern Indiana town of Madison was 1980.
This weekend's racecourse is the only race on the circuit that spans two states; the front stretch is in Indiana and the backstretch is in Kentucky.
Hydroplanes must meet the minimum average speed of 130 MPH for one lap on the 2-mile course in order to qualify for the holy grail of powerboat racing.
Other boats expected for the 69th regatta in the historic town included U-7 "Spirit of Detroit" driven by Canadian Bert Henderson; U-11 "J&D's presented by Reliable Diamond Tool" driven by Tom Thompson; U-98 "Graham Trucking American Dream" and her driver, rookie Corey Peabody; and Dustin Echols in the U-440 "Bucket List Racing."
Action on the water for this weekend's APBA Gold Cup will begin on Friday and the event is free for race fans. The H1 Unlimited Hydroplane Racing Series boats as well as other powerboat classes will be on the Ohio River all day, and H1 Unlimited hydroplanes are scheduled for qualifying from 2-4 PM
Racing begins on Saturday with two sets of heats for the A.P.B.A. Gold Cup. More racing will follow on Sunday, with the APBA Gold Cup final set for 3 PM.
Indiana Gov. Eric Holcomb is expected to present the trophy to the winner Sunday afternoon.
Madison Regatta's H1 Unlimited Hydroplane Racing Series Schedule
Friday, July 5, 2019
11:30am-12:30pm (EDT) H1 Unlimited Hydroplane Racing Series testing
2:00-4:00pm H1 Unlimited Hydroplanes Qualifying
Saturday, July 6, 2019
11:40am-12:40pm H1 Unlimited Hydroplanes Testing
1:20pm-1:40pm H1 Unlimited Hydroplanes Preliminary Heat 1A
1:40pm-2:00pm H1 Unlimited Hydroplanes Preliminary Heat 1B
2:15pm-3:15pm H1 Unlimited Hydroplane Driver's Autograph Session with the fans.
3:30-3:40pm H1 Unlimited Hydroplanes Preliminary Heat 2A
3:40-4:00pm H1 Unlimited Hydroplanes Preliminary Heat 2B
Sunday, July 7, 2019
11:00am-12:00pm H1 Unlimited Hydroplanes Testing
12:00pm-1:00pm H1 Unlimited Hydroplanes Preliminary Heat 3A
1:00pm-1:30pm H1 Unlimited Hydroplanes Preliminary Heat 3B
2:30pm-3:00pm H1 Unlimited Hydroplanes Preliminary Heat 4A
3:00pm-3:30pm H1 Unlimited Hydroplanes Preliminary Heat 4B
4:00pm-4:30pm American Power Boat Association's Gold Cup championship final