Lock Haven Labor Day Regatta
Photo: DVORA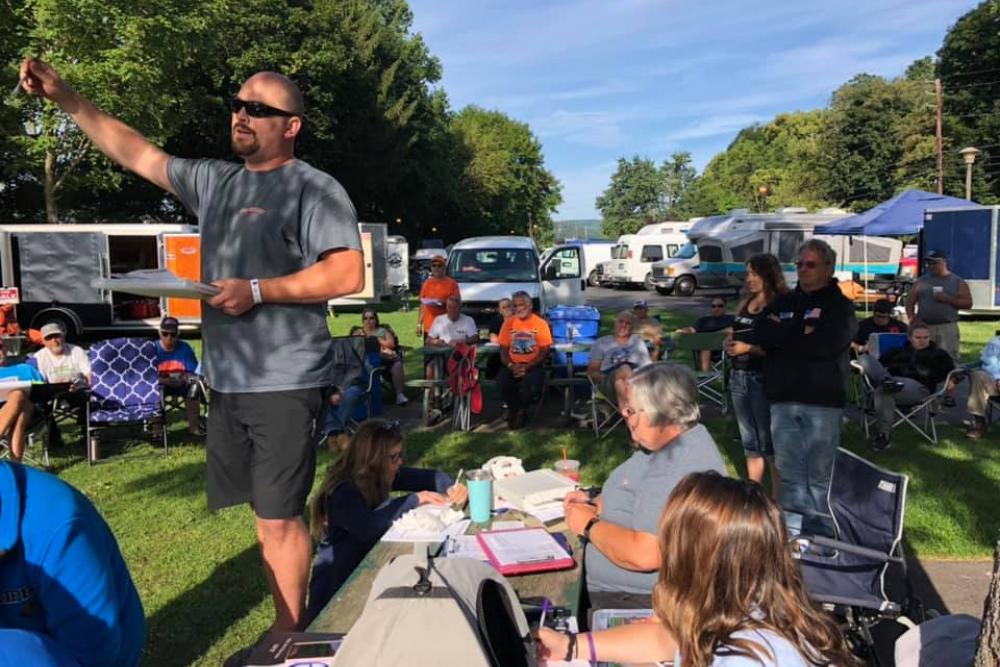 The 49th running of the Lock Haven Labor Day Regatta, hosted by the area Jaycees was another success for the host club DVORA. With over 450 entries over the weekend, it once again will no doubt be the largest APBA event in 2019.
Highlights included the annual Dash For The Cash on Sunday, which was won by Michigan's Tim Sidor for the second consecutive year. Vicki was there to claim the cash while Tim gave a victory interview for the large crowd.
Another Lock Haven weekend star was Karissa Mitchell as she swept the competitive AXR and AXH Classes for all three days! A perfect weekend for the young lady driver from Ohio! Also, it was special having Bonnie and Kierra Marquard in the house all the way from Seattle
Kierra raced for Team Racecraft and ran up front all weekend long in the very competitive 15SSH Class!
As usual, DVORA led by Jill, Shawn, Kaitlyn, Lisa, Dave and the crew made sure all the racing got done in a first class manner.
One more thing...CONGRATS to Dustin Pearson for winning the annual COOLER BOBBING contest. While Dustin struggled on the race course, he nailed the start every round of COOLER BOBBING to take home the grand prize, plus a head cold.
Next year will be the 50th consecutive running of the Lock Haven Labor Day Regatta. Plan to be there and let the good times roll!
Results...Lock Haven 2019 (Note: these are unofficial results, typed up in a hurry; official results to come pending APBA review.)
SATURDAY RESULTS>>>>>>>>>>>>>>>>>>>
J Hydro
1. Gianna Misero
2. Quin Roberts
3. Dominick Trolian
J Runabout
1. Dominick Trolian
2. Nick Wheeler
3. Quin Roberts
OSY-400
1. Matt D'Agostino
2. Joe O'Connor
3. Matt Allen
CSH
1. Brandon Sutton
2. Matt D'Agostino
3. Matt Allen
AXH
1. Karissa Mitchell
2. Jackson Gallagher
3. Gianna Misero
AXR
1. Karissa Mitchell
2. Jackson Gallagher
3. Michael Smith
125MH
1. Tom Sutherland
2. Will Augustine
3. George Smith
250MH
1. Tom Sutherland
2. Rob Dixon
3. Ken Terry
750MR
1. Mike Akerstrom
2. Big Steve Kohlenstein
3. Steve Fales
850MH
1. Rich Palmer
2. Wyman Boatwright
3. AJ Jennings IV
350MH
1. John Mauck
2. Wesley Rogers
3. Frank Novotny
350MR
1. Nate Mitchell
2. Jerry Davids
3. Will Augustine
15SSR
1. Peter Lauer
2. Bruce Nichols
3. John Wlodarski
20SSH
1. Nick Nowak
2. Ken Terry
3. Mike Mackenzie
25SSR
1. Mike Young
2. Tim SIdor
3. Dylan Murray
300SSH
1. Chris Stager
2. George Bressler
3. Michelle Snyder
ASH
1. Rachel Warnock
2. Kelly Allen
3. Jessica Goodwin
850MR
1. Mike Akerstrom
2. Jerry Davids
3. George Luce
15SSH
1. John Wlodarski
2. Joel Kiddy
3. Max Acierno
ASR
1. Billy Simmons
2. Peter Lauer
3. John Wlodarski
BSH
1. John Wlodarski
2. Nick Nowak
3. Mike Akerstrom
500MH
1. Frank Novotny
2. Matt Allen
3. AJ Jennings
CSR
1. Adam Allen
2. Shawn Breisacher
3. Dylan Murray
SUNDAY RESULTS>>>>>>>>>>>>>>>>>>>>>
J Hydro
1. Dominick Trolian
2. Gianna Misero
3. Quin Roberts
J Runabout
1. Dominick Trolian
2. Nick Wheeler
3. Price Ivie
300SSH
1. Chris Stager
2. Michael Sharphouse
3. David Campbell
ASH
1. Max Acierno
2. Nate Mitchell
3. Rachel Warnock
850MR
1. Mike Akerstrom
2. Steve Kohlenstein
3. Dustin Pearson
15SSH
1. John Wlodarski
2. Kierra Marquard
3. Chip Fuller
125MH
1. Tom Sutherland
2. Will Augustine
3. George Smith
CSR
1. Dylan Murray
2. Will Augustine
3. George Smith
250MH
1. Tom Sutherland
2. Fran Johnson
3. Ken Terry
OSY-400
1. Rob Dixon
2. Matt Allen
3. Mike Flockerzi
AXH
1. Karissa Mitchell
2. Nick Wheeler
3. Jackson Gallagher
AXR
1. Karissa Mitchell
2. Jackson Gallagher
3. Nick Wheeler
ASR
1. Nate Mitchell
2. Bruce Nichols
3. John Wlodarski
BSH
1. John Wlodarski
2. Chip Fuller
3. Ken Terry
500MH
1. Matt Allen
2. Justin Ivie
3. Dave Curtis
25SSR
1. Tim Sidor
2. Dylan Murray
3. John Wlodarski
CSH
1. Tim Sidor
2. Brandon Sutton
3. Dave Breisacher
750MR
1. Mike Young
2. Mike Akerstrom
3. Steve Kohlenstein
850MH
1. Kris Worth
2. Wyman Boatwright
3. Rich Palmer
350MH
1. Will Augustine
2. John Mauck
3. Wesley Rogers
350MR
1. Jerry Davids
2. Nate Mitchell
3. Will Augustine
20SSH
1. Nick Nowak
2. Bill Parker
3. Chloe Sees
750MH
1. Wyman Boatwright
2. Matt Allen
3. Bill Keegan
500ccR
1. Logan Sweeney
2. Mac Pfalzer
3. Travis Rice
MONDAY RESULTS>>>>>>>>>>
J Hydro
1. Gianna Misero
2. Austin Jennings
3. Matthew Thompson
300SSH
1. Mike Sharphouse
2. Dave Deck
3. Ed Donnelly
AXH
1. Karissa Mitchell
2. Nick Wheeler
3. Gianna Misero
AXR
1. Karissa Mitchell
2. Jackson Gallagher
3. Nick Wheeler
J Runabout
1. Dominick Trolian
2. Nick Wheeler
3. Price Ivie
OSY-400
1. Matt Allen
2. Holly Nowak
3. Mike Flockerzi
BSH
1. John Wlodarski
2. Nick Nowak
3. Chip Fuller
500MH
1. Matt Allen
2. Justin Ivie
3. AJ Jennings
500MR
1. Logan Sweeney
2. Mac Pfalzer
3. Travis Rice
250MH
1. Francis Johnson
2. Dave Deck
3. John Deck
ASR
1. Becky Nichols
2. John Wlodarski
3. Jason Thompson
20SSH
1. Bill Parker
2. Holly Nowak
3. Bob Wahlers
CSH
1. Mac Pfalzer
2. Matt Allen
3. Mike Flockerzi