Tabor City, NC - Unofficial Results
Photo: Tracy Trolian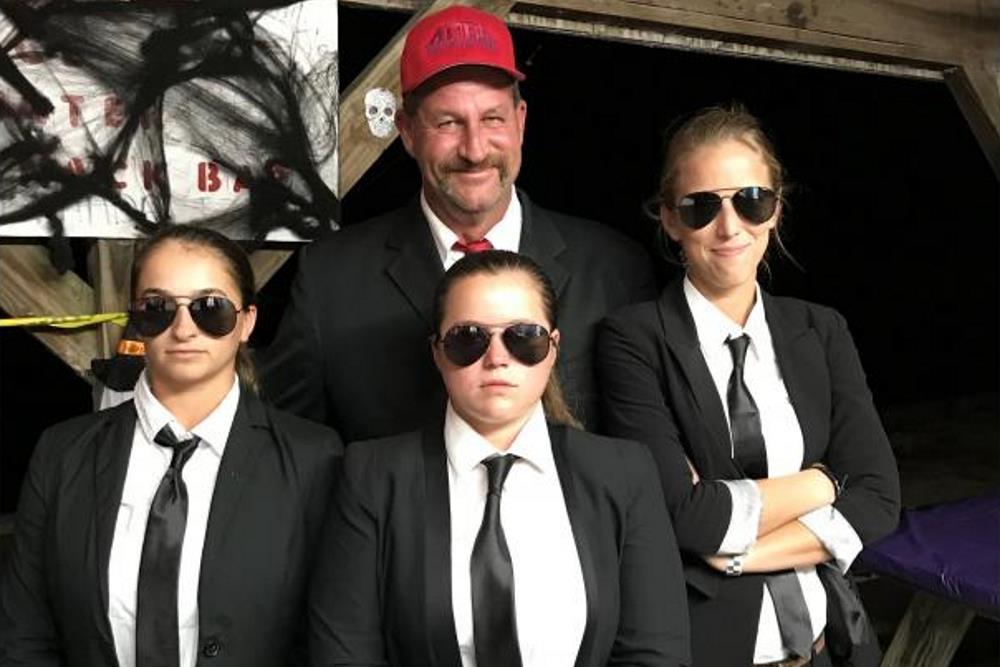 CVRA closed out the 2019 racing season this past weekend with it's annual Halloween Regatta. Tabor City treated us with 80 degree weather and great racing condition for the weekend. Drivers from as far away as Texas, Maine and Canada were here to enjoy the racing and great Halloween bash! It was nice to see Daniel Korpe and Nicole Dunlap make the event along with the Fabbro crew. It was the first and last race of the year for these teams. A special shout out to all our Drag Queens for putting on a show that all enjoyed but will want to soon forget I am sure. The winner this year was 14 year old Michael Smith of Team Davids. Michael was dressed as a nurse and was not only was the top bid winner but won the AXR Drag Queen race as well on Sunday morning. Proceeds went to support MRC and the 2020 Nationals in Springfield, Ohio.
If you haven't been to Tabor City you need to put on a costume, pack the race trailer and come on and have some fun! For those of you that did come down in 2019 we thank you and ask that YA'LL come back in 2020
The results are courtesy of Jill Glossner.
- Matt D'Agostino
Saturday
JH
1.Dominick Trolian
2.Cameron Lupton
3.Jackson Morton
4.Price Ivie
JR
1.Dominick Trolian
2.Price Ivie
3.Nicholas Wheeler
AXH
1.Erin Pittman
2.Nicholas Wheeler
3.JT Thompson
4.Cameron Lupton
5.Jessica Goodwin
6.George Smith
AXR
1.Michael Smith
2.Nicholas Wheeler
3.JT Thompson
ASH
1.Kelsey Bennett
2.Abby Pond
3.Kelly Allen
4.Aaron Churchill
5.Jessica Goodwin
ASR
1.Bruce Nichols
2.Pete Nichols
3.Becky Nichols
4.Kelsey Bennett
5.Aaron Churchill
6.Nathan Pitman
7.Kelly Allen
BSH
1.Michael Sharphouse
2.Robert Trolian
3.Albert Sharphouse
300SSH
1.Casey Carr
2.Carson Fabbro
3.George Bressler
4.Ed Donnelly
5.Michael Sharphouse
15SSH
1.Abby Pond
2.Mike Akerstrom
3.Austin VanOver
4.Erin Pittman
20SSH
1.Casey Carr
2.Arthur Rayfield
3.Marshall Anderson
4.Tom Burwinkle
25SSR
1.Carson Fabbro
2.Mike Akerstrom
CSH
1.Matt Allen
2.Matt D'Agostino
3.Arthur Rayfield
4.Carson Fabbro
CSR
1.Mike Akerstrom
2.Shawn Breisacher
3.Carson Fabbro
C Race H
1.Justin Gibson
2.Devin Huff
3.David Everhart
4.Niel LaRose
C Race R
1.Justin Gibson
2.David Everhart
3.Tim Weber
C Serv H
1.David Everhart
2.Devin Huff
C Serv R
1.Justin Gibson
2.David Everhart
3.Tim Weber
250MH
1.Justin Gibson
2.Dave Deck
350MH
1.Daniel Korpe
2.Tom Burwinkle
3.Mark Monsey
4.Erin Proctor
500MH
1.Eric VanOver
2.Wesley Rogers
3.Robert Trolian
500MR
1.Austin VanOver
2.Tim Weber
3.Chris Fabbro
750MH
1.Austin Vanover
2.Justin Ivie
3.Kris Wirth
4.Matt Allen
850MH
1.Eric VanOver
2.Wyman Boatwright
3.Matt Allen
4.AJ Jennings
5.Kris Wirth
6.Justin Ivie
7.George Ford
Sunday
JH
1.Dominick Trolian
2.Jackson Morton
3.Price Ivie
JR
1.Dominick Trolian
2.Price Ivie
AXH
1.Erin Pittman
2.Nicholas Wheeler
3.George Smith
4.Jessica Goodwin
5.Cameron Lupton
AXR
1.Michael Smith
2.Nicholas Wheeler
3.JT Thompson
ASH
1.Kelsey Bennett
2.Abby Pond
3.Kelly Allen
4.Aaron Churchill
ASR
1.Pete Nichols
2.Kelsey Bennett
3.Bruce Nichols
4.Becky Nichols
5.Kelly Allen
BSH
1.Albert Sharphouse
2.Michael Sharphouse
300SSH
1.George Bressler
2.Carson Fabbro
3.Casey Carr
4.Ed Donnelly
15SSH
1.Ryan Runne
2.Erin Pittman
3.Kaitlyn Glossner
4.Abby Pond
20SSH
1.Casey Carr
2.Marshall Anderson
25SSR
1.Carson Fabbro
2.Mike Akerstrom
CSH
1.Matt D'Agostino
2.Matt Allen
3.Carson Fabbro
4.Arthur Rayfield
CSR
1.Howie Nichols
2.Carson Fabbro
250MH
1.Justin Gibson
2.Dave Deck
3.Jack Deck
350MH
1.Daniel Korpe
2.Robert Trolian
3.Erin Proctor
4.Mark Monsey
5.Tom Burwinkle
500MH
1.Eric VanOver
2.Wyman Boatwright
3.Matt Allen
750MH
1.Austin Vanover
2.Matt Allen
3.Justin Ivie
4.Wyman Boatwright
5.Kris Wirth
850MH
1.Eric VanOver
2.Matt Allen
3.Wyman Boatwright
4.Justin Ivie
5.AJ Jennings
6.Kris Wirth
3rd Day
AXH
1.Erin Pittman
2.Nicholas Wheeler
3.George Smith
4.JT Thompson
5.Cameron Lupton
6.Jessica Goodwin
750MH
1.Wyman Boatwright
2.Justin Ivie
3.Kris Wirth
850MH
1.Erin VanOver
2.Wyman Boatwright
3.AJ Jennings
4.Matt Allen
5.Justin Ivie
6.Kris Wirth