2023 BOD and Council Nominations
Photo: APBA HQ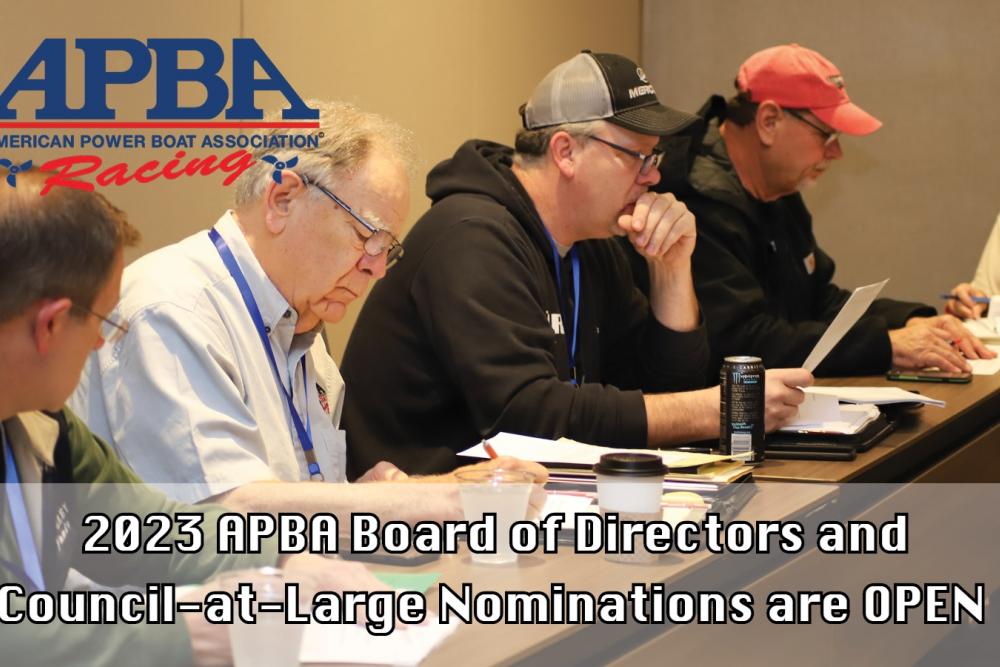 Board of Directors and Council at Large Nominations
Board of Directors: Three (3) at-large directors shall be elected annually by the membership for 3-year terms.
Council at Large: Four (4) council-members-at-large shall be elected by the membership for 3-year terms.
Terms Ending:
Board of Directors – Matt Yarno
Board of Directors – Kyle Bahl
Board of Directors – Fred Hauenstein
Council at Large – Patrick Gleason
Council at Large – Bob Wartinger
Council at Large – Johnny Wlodarski
Council at Large – Mikey Pavlick
Voter Eligibility:
You must be a member in good standing as of August 1.
You must hold a Racing or Non-Racing membership
Associate and Fan members are NOT eligible to vote in APBA elections.
Who to Nominate:
All Directors must be APBA members in good standing as of August 1st of the election year pursuant to the ByLaws.
No Licensee member may be a Board of Director per APBA ByLaw 7.2.7
   *Any officer, director, owner, agent, or attorney of or for a licensee of the Association may be a member of the Association as a Licensee Member, but he or she shall not have the right to vote or serve as a director or officer of the Association. APBA ByLaw 4.8
 
If you're nominated:
You must receive an official nomination from one (1) of the members of the Nominating Committee to be considered for the ballot
You will be contacted by APBA HQ
You will be required to supply a short biography for inclusion on the ballot
If nominated for multiple offices, you must inform HQ of which you would prefer by August 15
All nominations must be received at Headquarters prior to August 1.
Refer to the APBA Bylaws, article 9, for a full description of the Election Process.
2023 NOMINATING COMMITTEE
The Nominating Committee shall consist of the current Board of Directors, Category Chairs, and Region Chairs.
President, Chris Fairchild-chris@fairchildracing.com
Vice President, Mary Williams-mjracing5p@outlook.com
Board of Directors
Kyle Bahl-racerkyle@hotmail.com
Kip Brown-kipperps28@yahoo.com
Katelyn Fanaris-t2racing@yahoo.com
Fred Hauenstein-fred.hauenstein@gmail.com
Jean Mackay-Schwartz-jean84c@earthlink.net
Kurt Romberg-kromberg@rfkracing.com
Jan Shaw-janetshaw4994@comcast.net
Matt Yarno-myarno1041@yahoo.com
Category Chairs
Howie Nichols-apba113@gmail.com
Tom Sutherland-tls@wengco.com
Kristi Ellison-parroth222@aol.com
Sherron Winer-winer.sherron@gmail.com
Robert Wilson-bobwilson1024@gmail.com
Region Chairs
Pete Nichols-nicholsracing@bellsouth.net
Ann Marie Shaw-instpov@yahoo.com
Richard Shaw-shawracingt2@yahoo.com
Jeff Titus-jstitus2@att.net
Tom Johnston-tjohnston15m@live.com
Bill Pavlick-bpavlick125v@gmail.com
Ken Scoville-ken_scoville@comcast.net
Roger Carr-rcinr12@aol.com
Jim Olson-jolson5859@frontier.com