Jesup, GA - Unofficial Results
Photo: Holly Jones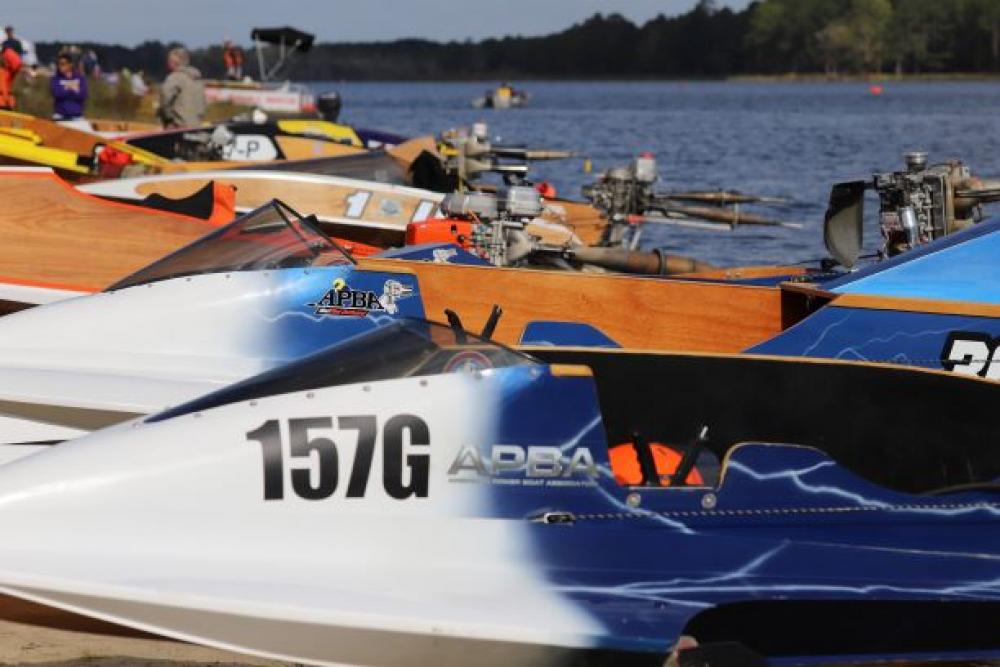 Peace River Outboard Racing Association would like to say thank you to everyone who made the event a success including APBA and the Board of Directors who graciously granted an exemption for our event and an event in Region 9 to award 2021 points to those in attendance with a few caveats which can be found under the APBA.ORG news section. We had trailers from Maine to Florida show up along with almost every Midwest state representing, giving us over 125 entries each day. A few key people really stepped up before, during, and after the weekend assisting with setup and tear down. Thank you to all of our officials along with Steve Dunn and his whole team and to Dave Bennett, your efforts did not go unnoticed and were greatly appreciated! Many others jumped in as well with too many to name, not wanting to leave anyone out please know we all thank you as well and could not have done this without you. Don't forget to check out the APBA Facebook page to see the videos and pictures that Becky Nichols and Holly Jones produced from the weekend.
2020 continued and attempted to throw many wrenches into the program all weekend long, but the Officials, drivers, and crews persevered and pulled it off. We opened Friday with anticipated testing to start at noon only to find the winds blowing, we all stuck it out and got to the water in the mid-afternoon. Saturday brought a chilly morning but teams were ready and we got under way with some exciting racing and some unfortunate accidents and break downs along with a misty rain in the late part of the day causing racing to halt. Most left the pits in good spirits ready for a full moon and fall back of the clocks on Halloween night. Sunday showed promise as we got to the water early and began the program only to have go on a slight wind hold. As soon as the wind subsided sunshine came out, temperatures went up and racing was awesome. Late in the day the winds returned and as we were winding down the Referee was determined to finish up the final classes with a 1 heat format to ensure all classes were able to race. The last trailers pulled out of the pits just after darkness fell.
We wish everyone a safe winter and plan to return to Jesup in the spring on April 8,9,10,11, 2021.
- Howie Nichols
See the Unofficial Results from the weekend below, courtesy of Jill and Kaitlyn Glossner.
Saturday / Sunday
JH
1. Kolby Crook / Kolby Crook
2. Jackson Morton / Price Ivie
3. Price Ivie / Jackson Morton
AXH
1. Treiden Schleicher / Treiden Schleicher
2. Cameron Lupton / Jasmine Dircksen
3. Jasmine Dircksen / Cameron Lupton
4. Kolby Crook / Kolby Crook
ASH
1. Kelsey Bennett / Treiden Schleicher
2. Treiden Schleicher / Adrianna Bonanno
3. JT Thompson / JT Thompson
4. Adrianna Bonnano / Kelsey Bennett
5. Becky Nichols /
ASR
1. Kelsey Bennett / Carson Fabbro
2. Treiden Schleicher / TJ Long
3. Carson Fabbro / Treiden Schleicher
4. Samantha Fairbairn / Kelsey Bennett
BSH
1. Mikey Pavlick / Mikey Pavlick
2. Mike Akerstrom / Mike Akerstrom
3. JT Thompson / Casey Carr
4. Casey Carr / JT Thompson
CSH Elim 1 (Saturday Only)
1. Matt Allen
2. Logan Sweeney
3. Herb Lanphear
4. Art Rayfield
5. Todd Anderson
6. Brian Payn
7. Tom Fernandez
CSH Elim 2 (Saturday Only)
1. Mikey Pavlick
2. Braxton Miller
3. Matt D'Agostino
4. Ken Knudson
5. Johnny Bried
CSH Final
1. Mikey Pavlick / Mikey Pavlick
2. Matt D'Agostino / Braxton Miller
3. Logan Sweeney / Logan Sweeney
4. Braxton Miller / Herb Lanphear
5. Matt Allen / Matt D'Agostino
6. Ken Knudson / Todd Anderson
7. Todd Anderson / Matt Allen
8. Johnny Bried / Ken Knudson
9. Herb Lanphear / Johnny Bried
10. Brian Payn /
11. Tom Fernandez /
12. Art Rayfield /
CSR
1. Joe Pater / Joe Pater
2. Logan Sweeney / Mike Akerstrom
3. Mike Akerstrom / RC Hawie
4. RC Hawie /
5. Carson Fabbro /
DSH (Saturday Only)
1. Braxton Miller
2. William Audette
3. Alex Poliakoff
20SSH
1. Mikey Pavlick / Rick Miller
2. Rick Miller / Casey Carr
3. Casey Carr / Matt D'Agostino
4. Matt D'Agostino / Todd Anderson
5. Matt Allen / Johnny Bried
6. Johnny Bried / Mac Miller
7. Ken Knudson /
8. Todd Anderson /
9. Mac Miller /
25SSR
1. Joe Pater / Joe Pater
2. Carson Fabbro / Mike Young
3. Dustin Pearson / Thomas Loomis
4. Mike Young / Dustin Pearson
5. Thomas Loomis / Carson Fabbro
300SSH
1. Mikey Pavlick / Casey Carr
2. Casey Carr / Robert Trolian
3. Joel Kiddy / Joel Kiddy
4. Robert Trolian /
200MH
1. Jasmine Dircksen / JT Thompson
2. Mac Miller / Jasmine Dircksen
3. JT Thompson / Mac Miller
350MH
1. Braxton Miller / Rick Miller
2. Rick Miller / Erin Proctor
3. Robert Trolian /
4. Jimmy Warren /
5. Erin Proctor /
6. Scott Miller /
350MR
1. Braxton Miller / Dustin Pearson
2. Chris Williams / Braxton Miller
3. Scott Miller / Scott Miller
4. none / Chris Williams
500MH
1. Matt Allen / Braxton Miller
2. Jimmy Warren / Jimmy Warren
3. Bill Weesner / Wes Rogers
4. Ken Knudson / Bill Weesner
5. Art Rayfield / Justin Ivie
6. Justin Ivie / Jason Morton
7. Jason Morton /
500MR
1. Logan Sweeney / Jasen Dircksen
2. Jasen Dircksen / Bill Weesner
3. Bill Weesner / Braxton Miller
4. Braxton Miller / Mark O'Brien
5. Mark O'Brien /
6. Chris Williams /
7. Jimmy Warren /
750MH
1. Wyman Boatwright / Wyman Boatwright
2. Justin Ivie / Justin Ivie
3. Mark Miner / Jasen Dircksen
4. Jasen Dircksen /
750MR
1. George Luce / Mike Akerstrom
2. Wyman Boatwright / George Luce
3. Mike Akerstrom / James Luce
4. Mike Young /
5. James Luce
850MH
1. Wyman Boatwright / Wyman Boatwright
2. Jasen Dircksen / Jasen Dircksen
3. George Ford / Alex Poliakoff
4. none / George Ford
850MR (Saturday Only)
1. Mike Akerstrom
2. George Luce
3. Wyman Boatwright
4. Mike Young
5. James Luce
MARATHON
ASR – TJ Long, Samantha Fairbairn
25SSR – Thomas Loomis
CSR – Dustin Pearson, Mike Akerstrom, Jon LaRosa