Madison Gold Cup Regatta Pre-Race Report
Photo: Chris Denslow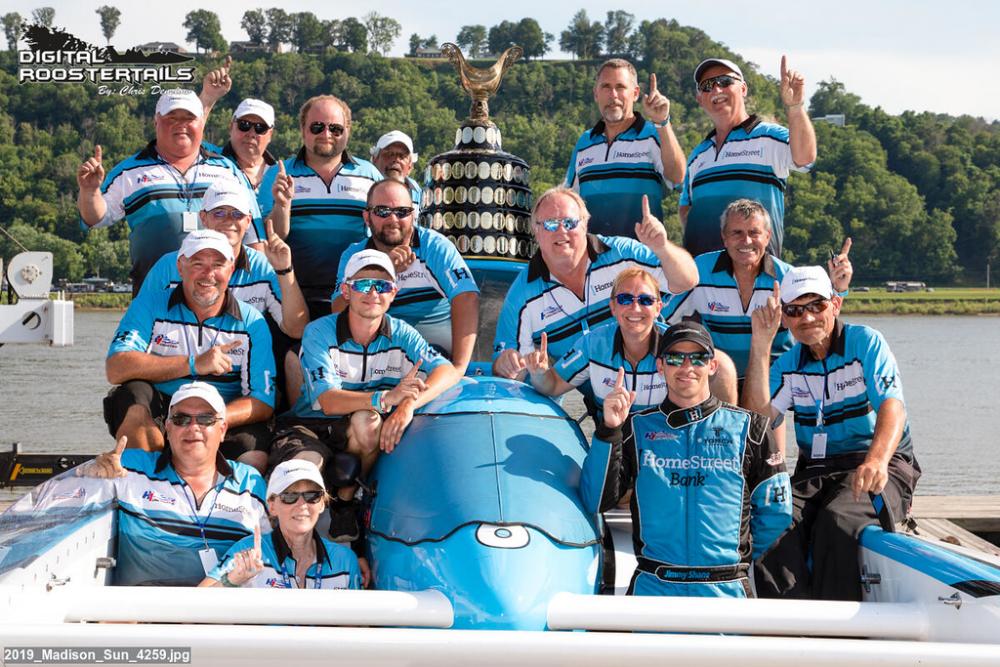 PRESS RELEASE
June 30, 2021
The world's fastest race boats will compete in the 111th running of the Gold Cup this weekend
MADISON, Ind. — The fastest race boats in the world will thrill fans in Madison, Indiana, this weekend when the hydroplanes on the H1 Unlimited Racing Series compete in the APBA Gold Cup, the most historic of all trophies in motorsports. Speeding across the water at nearly 200 miles per hour, the H1 Unlimited hydroplanes will give those lining the shore of the Ohio River the "Greatest Show on H-2-0."
The Gold Cup is the second event on the H1 Unlimited Racing Series calendar. In winning the Southern Cup last weekend in Guntersville, Alabama, J. Michael Kelly, 42, of Bonney Lake, Washington, piloted Miss Tri-Cities to his 12th career victory and his fourth H1 Unlimited race win in a row. His teammate on the Strong Racing Team, Corey Peabody, 42, of Kent, Washington, drove Pinnacle Peak Consulting to second place and was the event's fastest qualifier.
The one-two finish for the Strong Racing Team had special meaning because the event in Guntersville was their first-ever outing on the H1 Unlimited circuit. Vanessa and Darrell Strong of the Tri-Cities, Washington, purchased both boats last winter and have assembled a team that already should be considered a favorite to win the Gold Cup.
The fans in Madison will likely be cheering loudest for their hometown entry, though. Owned by the citizens of Madison, the Miss HomeStreet will be driven by both Jimmy Shane of Covington, Washington, and Jeff Bernard, 36, of Kent, Washington. Shane is the sport's defending national champion and, at age 31, already has six national titles and 19 race victories to his credit, which puts him seventh on the list of most successful drivers in history.
At the top of that list of successful drivers, however, is Dave Villwock of Monroe, Washington, who has returned to driving this season after a five-year absence and, at age 67, will pilot Miss Beacon Plumbing. The third-place finisher in Alabama last weekend, Villwock is the sport's all-time greatest champion with 67 race victories, including nine in Madison, and 10 national titles.
While Villwock stands at the top in most driver categories, he remains second in the number of Gold Cup victories with 10. A win in Madison this weekend would put him in a tie with Chip Hanauer as the best in Gold Cup history.
Another H1 Unlimited hydroplane that is capable of winning it all this weekend will be Graham Trucking, which is driven by Andrew Tate of Canton, Michigan. Tate, 31, who joined the team just before the season started, was the winner of the 2018 national championship and has collected nine race victories in only four years on the H1 Unlimited circuit.
Jamie Nilsen, 36, of Fife, Washington, will be in the cockpit of J&D's, a boat that he piloted to two exciting deck-to-deck battles with Miss HomeStreet during the action on Guntersville Lake last weekend. Rounding out the field will be Dustin Echols, 41, of Monroe, Washington, who will be driving Bucket List Racing.
The APBA Gold Cup is the oldest trophy in American motorsports, having been first organized by the American Power Boat Association in an event held on the Hudson River in New York City in June 1904. The winner of that race, a craft named Standard, averaged just over 23 miles per hour.
Today's boats are about 30 feet long, weigh more than three tons, are powered by 3,000-horsepower gas-turbine engines, and skim across the water's surface at breathtaking speed while throwing spray high into the air. Average lap speeds in Madison will likely be in the neighborhood of 150 to more than 160 miles per hour.
Nothing compares to the unique visual beauty of watching the H1 Unlimited hydroplanes live. Tickets to this weekend's race in Madison are still available at www.madisonregatta.com. If you're not able to attend, the races also can be enjoyed with a live-streamed broadcast on the H1 Unlimited YouTube Channel. You can find a link at H1Unlimited.com.
###